Bukele ends time as mayor; launches new political party
Today is the last day of Nayib Bukele's time as mayor of El Salvador's capital city. The mayor came into office as a candidate of the FMLN, was kicked out of his party, and remains
the most popular politician
in El Salvador. He finished his time in office in full campaign mode to run for president in 2019.
Bukele focused his administration as mayor on
renovation of the historic center
of San Salvador. Unlike prior mayors, he was able to accomplish this without a single riot of the informal vendors who clog the downtown streets. He delivered on public services like trash collection and fixing potholes (although my car still finds plenty of holes in the streets). Everything had his trademark shade of blue, from the new garbage trucks to the municipal signs. Bukele's time in office earned him glowing reviews in the international press, with articles in
TIME magazine
,
Virginia Quarterly Review
,
Forbes
, and
The Economist
.
Over the weekend, Bukele set the ambitious goal to collect 200,000 signatures for the registration of his new political party, Nuevas Ideas. He only needed 50,000 signatures, but Bukele promised he would collect more signatures faster than any political party in Salvadoran history and then made good on his promise. Bukele announced his campaign had reached the 200,000 signature goal on his preferred platform Facebook Live to an audience of tens of thousands. Bukele made the presentation in Plaza Morazan, in the historic center of San Salvador, where the mayor was unveiling the renovation of this civic space before the National Theater on his penultimate day as mayor of the city.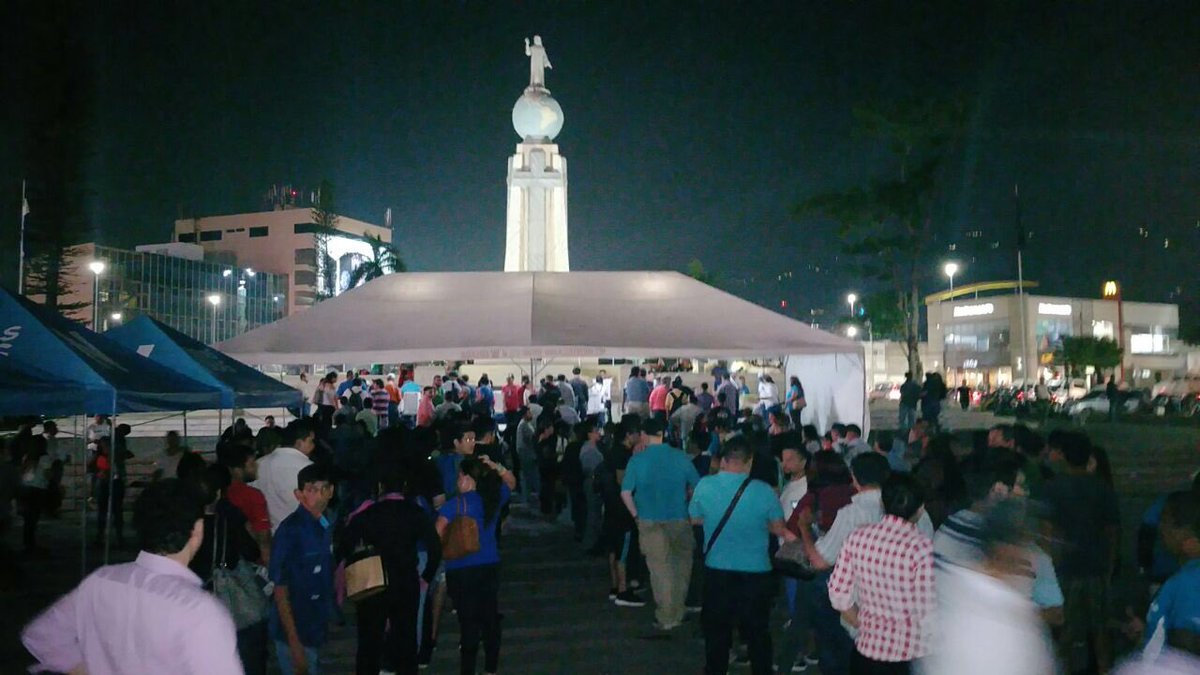 Long lines to sign up with Nuevas Ideas over the weekend.
It is still uncertain whether Bukele can actually run for president in 2019 as the candidate of Nuevas Ideas. Once it receives the load of boxes with signature books containing 200,000 or more signatures, the Supreme Electoral Tribunal ("TSE") has a period of 60 days in which to verify and validate the signatures. The TSE then publishes its conclusions. Only if there are no objections within three days following, will Nuevas Ideas join the official roles of Salvadoran political parties entitled to participate in elections. The challenge for Bukele is that the TSE, which is made up of representatives appointed by the existing political parties, may delay the process long enough that Bukele cannot meet the approaching deadlines for enrollment as a candidate for the elections nine months away.
There are other potential signs of trouble for the ambitious Bukele. As Bukele was winding up his triumphal finish as mayor, El Faro decided to publish this weekend a
story
of a poor family in Soyapango whose house burned down. At a public event, Bukele promised to rebuild their house. He never did. A
public integrity investigation
against Bukele has found more than $800,000 in income which he did not declare during his earlier stint as mayor of Nuevo Cuscatlan. There is a judicial case against Bukele for
defamation by Eugenio Chicas
, the president's communications secretary, whom Bukele accused of having sex with a minor who Chicas' later married to cover up. And Bukele also faces
prosecution for verbal harrassment
of a female member of San Salvador city government.
Bukele has only been on the political stage in El Salvador for six years, and yet he has completely shaken up the landscape. The collection of 200,000 signatures in just three days was a real show of political power and organization. The forces of the existing order, on both the right and the left, will use any and all legal (and perhaps illegal) tactics, to slow Bukele's momentum.